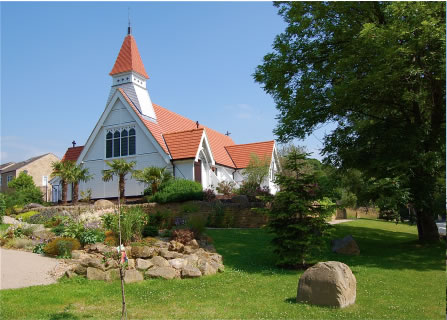 St James' Church

St James' Church
Kirklands Lane, Baildon, BD17 6HH
St James's is known locally as 'the little white church' for its picturesque, chocolate-box appeal and is very popular for Weddings and Christenings. The church, in the Charlestown area of Baildon, is a unique Grade II listed building, constructed almost entirely of wood.
St James' was completely renovated in 2008 with the addition of a comfortable lounge, kitchen, toilets and state-of-the-art under-floor heating. It is surrounded by a Biblical Garden complete with ponds and has become a beautiful new centre for the whole community.
Services
St James' main church service of the week is on Sundays at 10.30am. This is a Holy Communion service with prayers, readings from the Old and New Testament, a Gospel reading, hymns, a sermon and the giving and receiving of Communion (bread and wine) or a blessing. Everybody is welcome.
On the fifth Sunday of the month the whole parish worship together at St John's, St James' or St Hugh's at 10.00am on a rotational basis. Please see the diary section of our weekly pew sheets for venues and dates.
Weekday Service – We hold a Holy Communion service on Wednesdays at 10.00am. Everyone is welcome.
Evening Service – An evening Service is offered every Sunday (except the third Sunday of the month) at either St John's or St James' church. Please see the diary section of our weekly pew sheets for venues and dates.
Weddings and Christenings
St James' is very popular for weddings and baptisms. Please see our Weddings or Christenings pages for more information about how to enquire or book. Could 'Weddings' link to the Wedding page and the same for the Christenings?
ECO Friends
We are registered as a member of the ECO-Church scheme and anyone can join our Eco group which meets regularly to discuss ecology issues and plan events to raise awareness or fund-raise.
Luncheon Club
St James's runs a regular luncheon club in St James' Lounge. This is a social two course lunch with friends every other Tuesday at 12 noon. Each meal costs £5.00. Everybody is welcome and if you are interested in coming along, please make contact with us through the Contact page.
Primrose Knitters and Scrabblers
This is an informal group who meet to chat whilst knitting or crafting, or they play games of Scrabble. Refreshments are served during the session. It's a friendly group for people who are looking for a way to socialise and meet new friends. Sessions cost £2. Just turn up at St James's on Thursdays at 2pm.
Green Team
St James's Garden Maintenance Group meets weekly to look after the church's Biblical garden. A group of volunteers keep the gardens tidy, plant new bulbs, prune and develop the plot. Any willing helpers will be welcome. Let us know through the Contact page if you would like to get involved.
Whist Drive
Several tables of this popular card game are played on the second and fourth Fridays of the month at St James's at 7.00pm. The evening costs £2 including refreshments and a raffle ticket. Everybody welcome.
Room Hire
St James' has a hall area for hire plus a very comfortable lounge. The Hall is charged out at £17.00 per hour and the lounge, at £11.00 per hour. We offer a 25% discount to regular bookers. We also have a fully equipped, modern kitchen for offering light refreshments to a 3-course meal. To book or for more information please Contact Us.